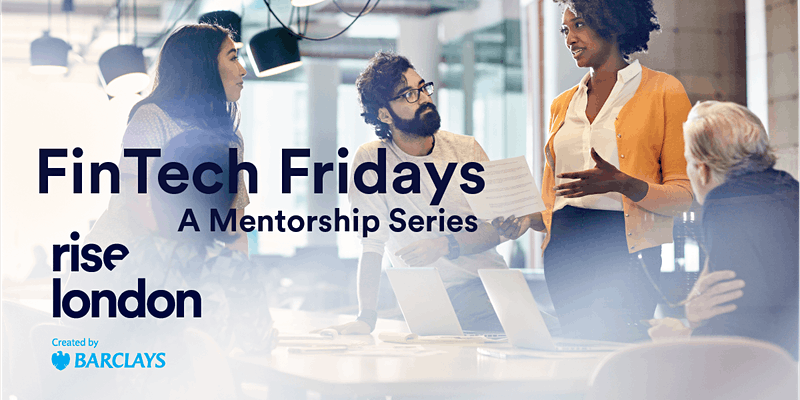 Fintech Fridays at Rise LDN - MUST FILL OUT GOOGLE FORM TO APPLY
Brief Description
The program, occurring monthly, functions within an office-hours structure, and will be open to all FinTech startups in the London ecosystem
Event Description
About this Event
If you are accepted to attend the event you will receive an email with time confirmations. This event will be virtual, using video conferencing for the meetings.
In order for your startup to be considered for mentorship you must submit an application using the following Google form: https://forms.gle/gZEQXmVdsdW1B1nU7
You do not need to purchase tickets for this event, tickets are by filling out the Google Form.
This months program welcomes all FinTech start-ups to receive feedback from our mentors. Our guest mentors include individuals from around the FinTech community and have expertise in marketing, legal, business development and other fields to accelerate your startup's growth.
Alastair Thompson, Head of Business Development/FinTech Innovation at G&D Mobile Security,https://www.linkedin.com/in/alastairthompson1/
Alastair achieves high growth, profits and expansion in the UK. Currently working on mobile devices, cyber security and digital solutions for FinTech and Banks. He has over 14 years' commercial business development in financial services, eCommerce, technology, consulting, C-level client management experience.
Clare Whitehead, FinTech Platform Manager at Barclays, https://www.linkedin.com/in/clare-whitehead-241ba77b/
Daniel de Wolf, Director at Nimbulent, https://www.linkedin.com/in/dandewolf/
Daniel has spent over 15 years working in Tech and building companies. During that time he's started his own businesses, worked for start-ups & advised businesses in funding, strategy and commercials. He's worked with finance, health and government services focused organisations. His focus will be talking-to companies about seeking funding during this time, selling to and working with enterprises and building a company that will last.
Drew Graham, Director of Digital Strategy at Barclays, https://www.linkedin.com/in/drew-graham/
Drew is a serial entrepreneur turned banker; a sheep in wolf's clothing. He was previously the Head of Platform for the Standard Chartered Virtual Bank in Hong Kong. He joined Standard Chartered as Director of Fintech Strategy and Engagement in 2016. Before renting his soul, he founded and led a financial inclusion payments company in Indonesia, a financial services Cloud services company in Hong Kong, an oil and gas technology infrastructure company in Papua New Guinea, a data analytics startup in Berlin and a zip line in Singapore.
Gary Prince, CSO at SimplyPayMe, https://www.linkedin.com/in/garymprince/
A seasoned veteran of the mobile and payments industries, having spent the last 20 years in creating new and alternative payment products in Banks, financial institutions and mobile companies. He has worked at Barclays, Vibepay and is here to utilise his maverick streak by looking at ways to innovate and disrupt within payments.
Gillian Kerr, CMO at Trade Horizons, https://www.linkedin.com/in/gilliankerr1/
A C-level International Business specialist with a proven track record in building businesses and profit for MNCs, SMEs, as well as start-up and scale-up companies. Specific expertise in business strategy, branding, marketing and communications.
Richard Holling, Director at Dales Finance, https://www.linkedin.com/in/rhollingfintech/
Experienced business executive with 30 years of business and commercial experience. Richard has worked as a consultant, sales executive and manager for several major international companies over his 30 years career. In 2019 he set up his business Berkshire Dales, which offers SMEs advising on getting the right business finance, and business advisory services.
Sandipanee Samantary, Tech London Advocate & Global Strategy Manager at Global Processing Services, https://www.linkedin.com/in/sandipanee/
A decade plus journey from a Tech Developer to Fintech Products/Strategy. Sandipanee is on an exciting journey with Paytech pioneer - 'Global Processing Services'.He has previously led products, tech and projects at Wonga, Digilytics, Royal Bank of Canada, Discover, GE and HSBC across geographies.